When Life Gives You Lemons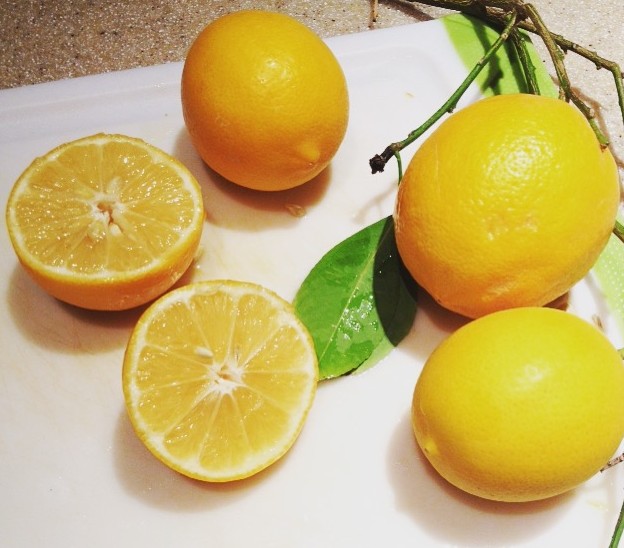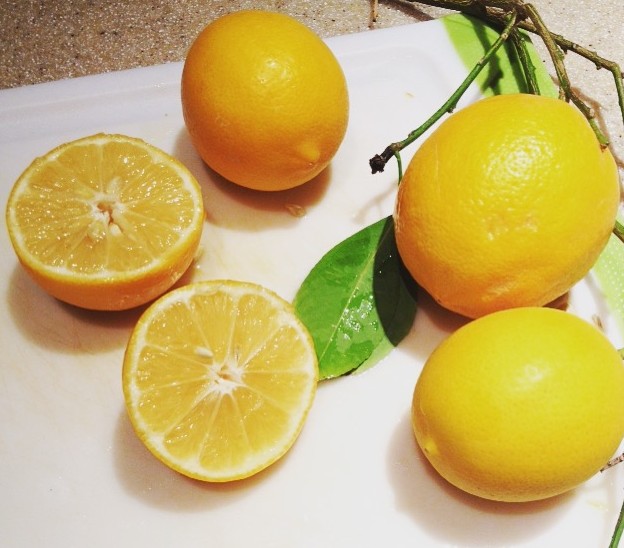 You make lemonade and lemon bars and lemon spaghetti and … well, you get the idea. Every winter our little lemon tree gives us a beautiful bounty. Here are of my favorite ways and some new things I tried this season.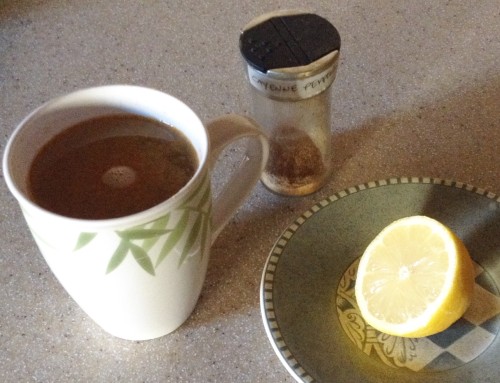 Warm Water with Lemon and Cayenne
I enjoy this drink first thing in the morning on an empty stomach. The warm water and lemon helps flush and re-hydrate the body, improve digestion, offer a little immune boost with vitamin C and potassium and can lead to cleaner skin. Remember not to squeeze your lemon directly into boiling water, you will destroy the live enzymes in the lemon, instead use warm water. Combining cayenne with lemon increases the detoxing effect and raises the temperature of your body increasing your metabolism. To really boost your immune fighting ability add a splash of raw and unfiltered apple cider vinegar. ACV is known to help to relieve allergies, lower blood pressure, reduce inflammation, aid digestion, control candida and more. A quick search online will reveal so many ways ACV this helps! I drink this concoction with a straw to minimize the amount that gets on my teeth and could erode enamel.

Fresh Lemonade
Recipe from Inga Garten
This recipe has you put the lemon juice, water, sugar and ice into a blender. I had never done that before with lemonade and it's brilliant. It's frothy, light and delicious.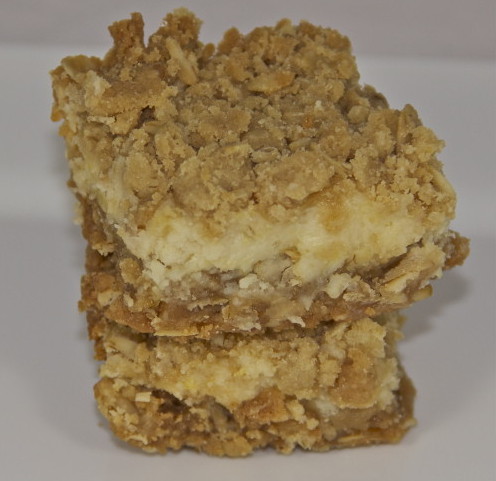 Oatmeal Lemon Creme Bars
Recipe from Sally's Baking Addiction
These have become my family's favorite lemon dessert. The cream filling tastes like lemon cheesecake. I usually use the Better Crocker cookie mix shortcut which makes this such a simple and quick recipe but, I think I'll try the from scratch recipe next time. Since we are all sensitive to dairy and I make these quite a bit around the holidays, I split the filling in half and made two batch last time and they tasted great.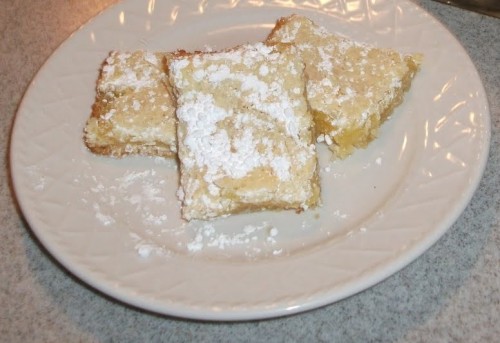 Fresh Lemon Bars
Recipe from 365 Favorite Brand Name Cookie Recipes
Crust:
1/2 cup butter, softened (although I usually add another 1/4 cup)
1/2 cup sugar
grated peel of 1/2 lemon
1 and 1/4 cup flour
Lemon Layer:
4 eggs
1 and 2/3 cups sugar
3 tablespoons of flour
1/2 teaspoon baking powder
grated peel of 1/2 lemon
juice of 2 lemons (6 tablespoons)
1 teaspoon vanilla extract
confectioner's sugar
To make crust, in a bowl blend butter, sugar and lemon peel. Gradually stir in flour to form a soft crumbly dough. Press evenly into the bottom of an aluminum foil lined 13x9x2 inch pan. Bake at 350 degrees for 15 minutes.
Meanwhile, to prepare lemon layer. In a large bowl whisk eggs well. Stir together sugar, flour and baking powder. Gradually whisk sugar mixture into eggs. Stir in lemon peel, lemon juice and vanilla. Pour over hot baked crust. Return to oven and bake for 20-25 minutes. Cool. Using foil on two sides, lift out the cookie base. With a wet knife cut into bars or squares. Sprinkle with confectioner's sugar.
Lemon Spaghetti
Recipe from Giada De Laurentiis cookbook Everyday Italian
2/3 cup

olive oil

2/3 cup

grated Parmesan cheese

1/2 cup

fresh lemon juice

3/4 teaspoon

salt

1/2 teaspoon

ground black pepper

1 pound

spaghetti

1/3 cup

chopped fresh basil

1 tablespoon

lemon zest
In a large bowl, whisk oil, Parmesan cheese, lemon juice, salt and pepper to blend. Set the lemon sauce aside. (Sauce can be made up to 8 hours ahead. Cover and refrigerate. Bring to room temperature before using).
Cook spaghetti according to package directions. Drain reserving 1 cup of the cooking liquid. Add spaghetti to the lemon sauce; toss with basil and lemon zest. Toss pasta with enough reserved cooking liquid, 1/4 cup at a time, to moisten. Season with salt and pepper to taste.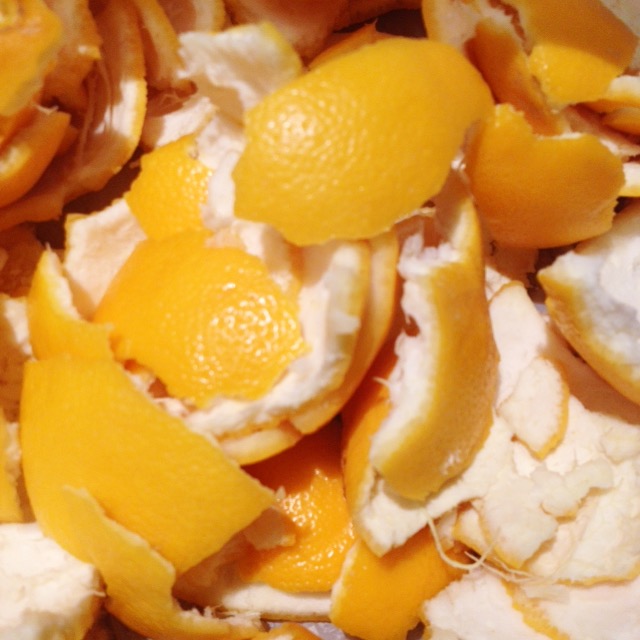 Ways to Use Lemon Peels and Save Lemons for Later

Put down the garbage disposal to freshen it up
Place in a jar with vinegar and soak for two weeks, add vinegar to spray bottle for a natural cleaner
Freeze lemon juice in ice cubes
Freeze lemon zest
Freeze a whole lemon, zest the entire thing and put it on anything. Say what? Yep. I had read this a few times recently and the health benefits it touts is worth giving it a try.  Simply take an organic lemon, wash it and then put it in the freezer. Once it is frozen you get whatever is necessary to grate or shred the whole lemon without even peeling it first…. Read More: http://www.naturalnews.com/040574_freezing_lemons_lemon_juice_vitamins.html
I'm always looking for new ways to enjoy this delicious citrus fruit. I would love to hear what your favorite lemon recipe or way to use lemons is!