Irish Soda Bread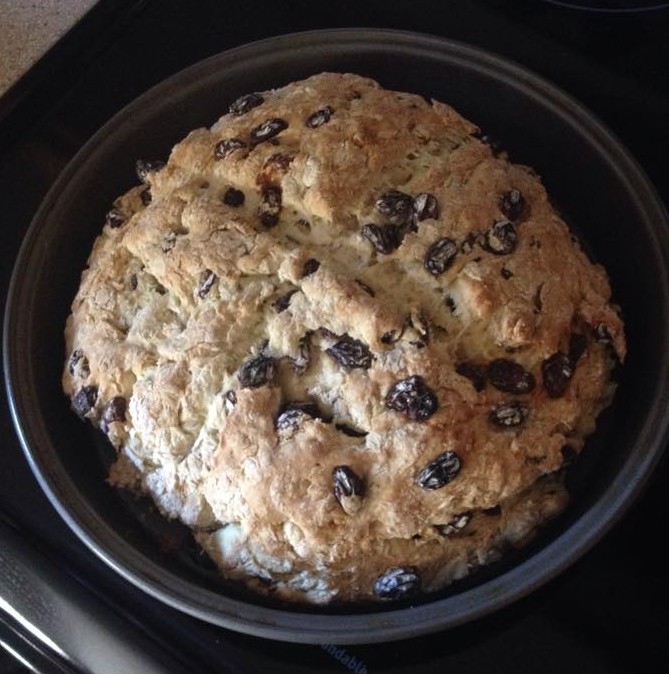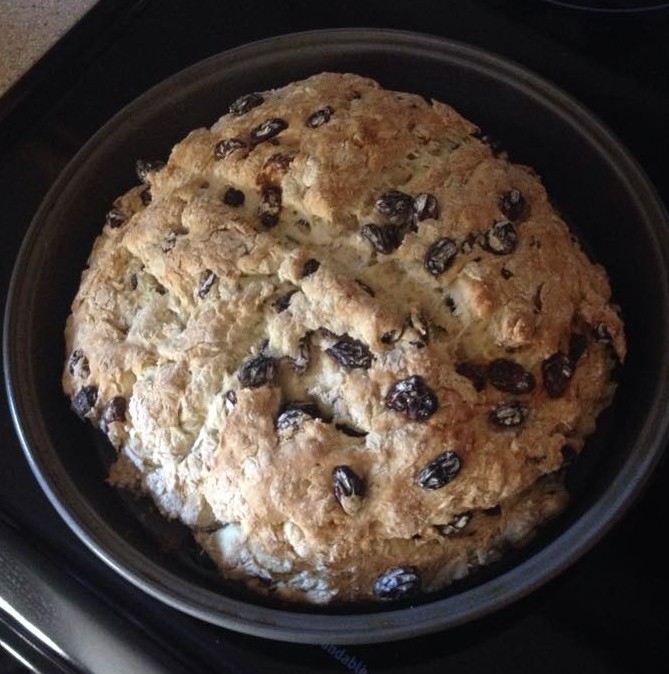 Happy St. Patrick's Day! To celebrate, I cooked my first corn beef and cabbage dinner and baked my grandmother's Irish Soda Bread. I make this bread every year and always look forward to it. It's so good, I could eat this entire pan by myself! My grandma's recipe originated in Ireland and has been passed down to my grandmother, then my mother and now me. Her Irish heritage was so special to her and I know she is smiling up in heaven knowing how much our family loves her recipe. Love and miss you Grandma. xoxo

Irish Soda Bread

3 cups flour
1 1/2 cups of buttermilk
1 teaspoon baking soda
1 teaspoon baking powder
1/2 teaspoon salt
1 1/2 cups of raisins (omit for traditional "plain" soda bread)
Mix all the ingredients together. Knead for a few minutes on floured surface. Place in a cake pan. Make a cross with a knife in dough. Bake for 35 minutes at 350 degrees. There's no doubting that soda bread tastes best still warm from the oven and simply spread with butter. So delicious and so easy to make.
Short History
Soda bread is a quick bread dating back to approximately 1840 in which baking soda is used for leavening rather than yeast. The ingredients of traditional soda bread are flour, baking soda, salt, and buttermilk. Some believe that the cross was placed in the bread to ward off evil and some say the cross is used to help with the rising of the bread.
After some research I found that my great-grandmother's soda bread could actually be named "Spotted Dog" due to it's addition of raisins. Originating in Ireland, the Spotted Dog is a fruit bread made using the same key ingredients as traditional Irish Soda Bread with the addition of sugar and dried fruit. Typically, raisins or currants, which make the bread look "spotted" and thus the name.
However, my great-grandmother's recipe contains no sugar so, maybe it's a cross breed between spotted dog and plain soda bread? Either way it is yummy and the kids agree!