More Art. More Dance. More Joy!
Hello Creative Soul,
How is your heart feeling lately? Our lives have been topsy turvy and if you are anything like me, we've been through a roller coaster of emotions processing it all. After allowing myself to feel all the feels, I'm waking up to the ways in which I've forgotten just how powerful I am and seeing how I can bring more of my love and magic into what I'm doing. This year forced us to slow down and re-evaluate how we show up for ourselves and our communities.
Bottom line, we need … more art. more dancing. more writing from our soul. more of what makes you feel alive. MORE JOY.
How many of us dance around the house during the day? I asked this question online and was so happy to hear many of you do! I equally heard "not nearly enough". If you feel like like the latter, consider this your PSA to boogie more often! A little shimmy while cooking, or shake your hair dry to some tunes after the shower. Dance out your stress.
"Joy does not simply happen to us. We have to choose joy and keep choosing it every day."
– Henri J.M. Nouwen
My devotion to living a life engaged with my creativity is always what gets me through. It brings me back to my personal power and helps me carry on.
"Joy does not simply happen to us. We have to choose joy and keep choosing it every day." - Henri J.M. Nouwen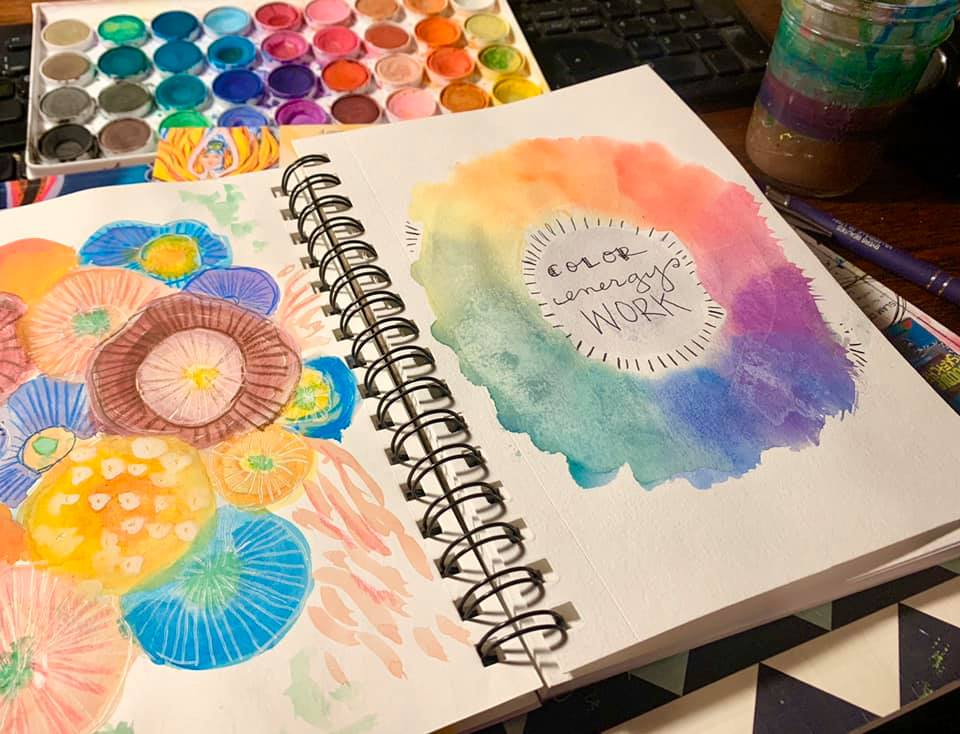 We cannot underestimate the power of creative community and self expression in times like these. In the beginning of the pandemic, I embarked on a healing journey through color; sharing a sketchbook color energy collage series followed by a 7 Chakra – Layer by Layer – Meditation Painting series.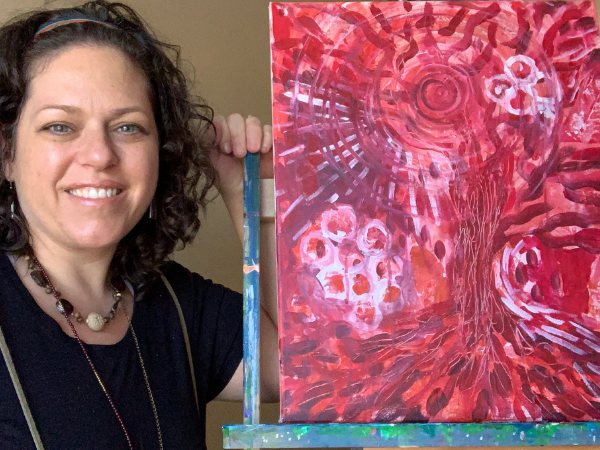 In the meditation painting series, each layer was created by feeling into the color and energy of the 7 chakras and painting the next on top of the week before, using just one canvas as a portal to self discovery.

When you are an artist following your path, the unexpected is to be expected. You never quite know how things are going to turn out. It is the same on the canvas.
Both the color energy sketchbook series and meditation painting series were streamed live to my creative community in the Discover Your Creative Magic Facebook Group and are currently available in the group for replay. I am working to edit both series of videos to make them available outside of Facebook as well. Stay tuned for that coming soon!