Painting & Pajama Party Wrap Up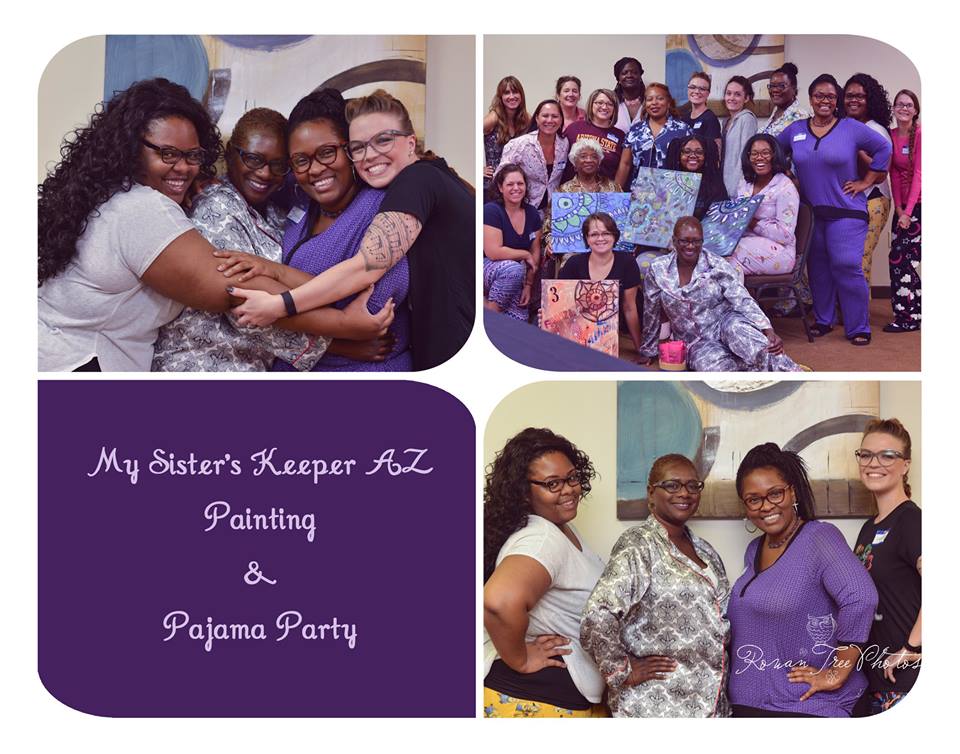 Photos above courtesy of Rowen Tree Photos
This life is yours to CREATE! I had the privilege of leading a painting experience to my largest group yet during a private painting party with My Sister's Keeper AZ. 16 fabulous women and friends from the women's empowerment group My Sisters Keeper AZ came together for an evening of painting, sisterhood and fun in their pjs!
My favorite part was meeting so many beautiful woman and witnessing them release their inner artist onto a canvas. Everyone was so open and willing to enjoy the process! They had a fun bonding experience while creating unique works of art. It never ceases to amaze me how different they all turn out when each person is presented with the same mix of tools and colors. This group of women came together and we had a night full of laughter, positive energy and each tapped into their individual creativity.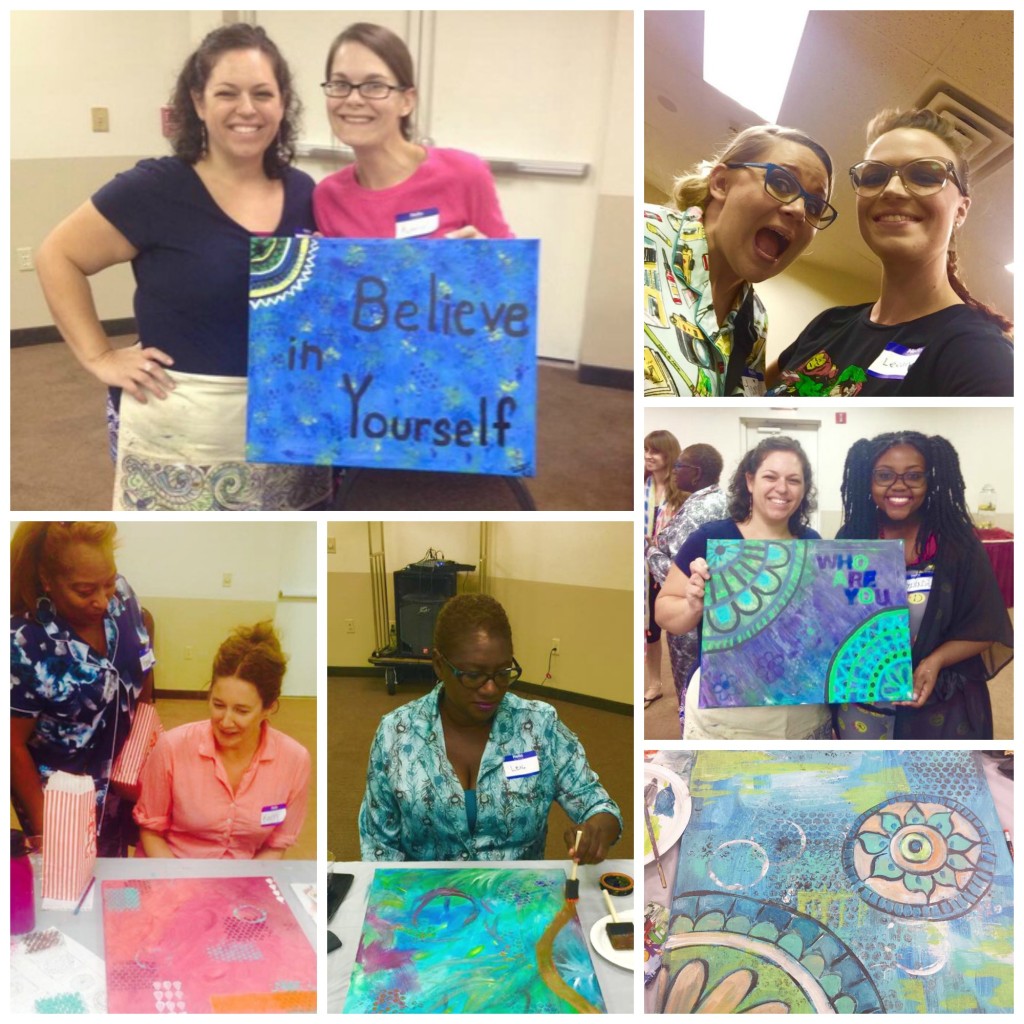 Listen to what a couple attendees had to say!
I have always hoped I could create something this beautiful and thanks to Kristen I did! I had such an amazing experience at the Pajama & Painting Party put on by My Sisters Keeper AZ last Saturday night. I laughed, I cried, I created and I made at least 5 new friends. If I ever tell you about one of their events you must go! They are all about supporting women, holding space for them and having fun. Also, go check out Kristen Fagan Art & Design – she is an amazing artist with a big heart. I am forever changed! ~ Kerry Burki

Such an inspiring and fun painting party with one of the most fantastic and supportive group of women I have ever met! I had such a blast and felt at home instantly. Kristen, you were such a wonderful teacher and I love how you set up the class. iamLensKitchen, the food was so nourishing, just like the whole group of ladies and the time we spent together last night. Thank you! I'm so happy with what I created with the help of Kristen Fagan Art & Design … this one is going in my studio to remind me that I'm always exactly where I need to be … don't worry be happy! ~Kimberly Kling of Joyful Roots
I could not have pulled this event off with the help of these lovely ladies! My sweet friend Meg helped with setup, keeping everyone's water clean, replenishing paint, and so much more! I am so grateful for her generous and helpful spirit. Small bites menu of healthy goodness provided by Len's Kitchen (@iamlenskitchen), we were lucky to have such good eats! Jennifer of Rowen Tree Photos graciously took a ton of pictures to capture the event. And lastly, I cannot thank the co-founders of My Sister's Keeper AZ enough for their support and for putting their faith in me to lead this event for their members. In addition to the painting fun, the ladies of My Sisters Keeper AZ collected donations of clothes, bras, and toiletries for women who live in homeless shelters right here in our communities. These ladies have such big hearts!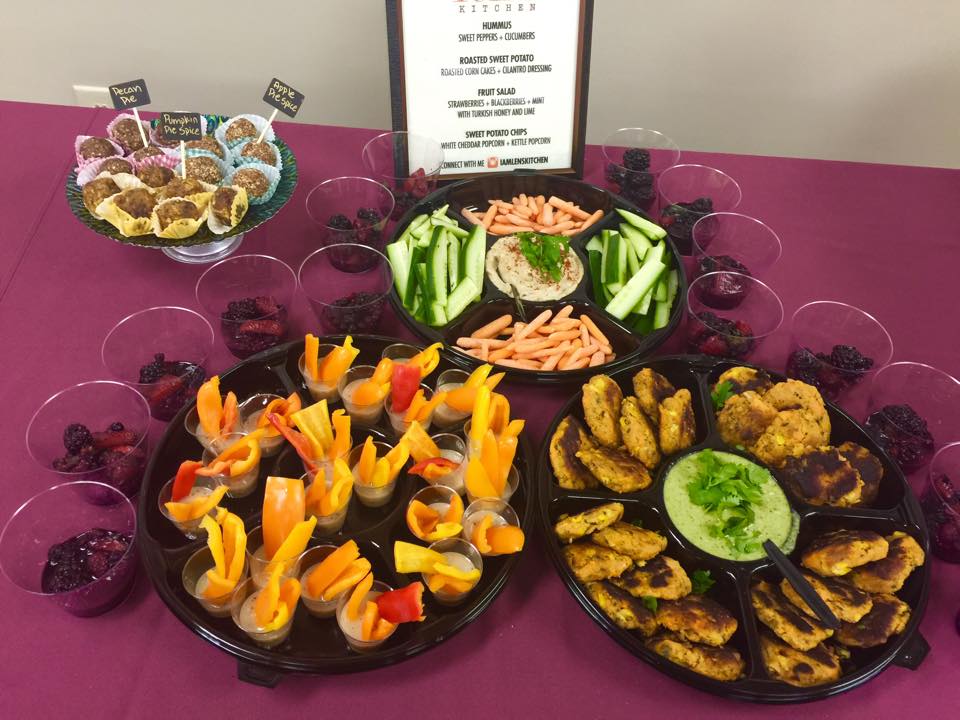 My Sisters Keeper AZ Mission Statement: "Our mission is to be a source of positive change by locking arms with women in our surrounding communities and inspiring them to support each other in a global shift to better overall health. We will do this by helping women achieve a holistic and happier balance in all areas of their lives; while setting an example of self development, growth and personal expansion. United we stand!" Learn more about My Sisters Keeper AZ here.
---
My paint parties are a safe, judgement-free zone to create! I guide you through a multi-layer painting process with lots of room for self expression. Embrace the opportunity to play and give yourself permission to paint with abandon.
Want to attend a painting party and be notified of future dates? Click here sign up for email. If you would like to host a private painting party, email me at kristenjfagan@gmail.com to discuss your event. I look forward to painting with you!