My Year in Paint 2016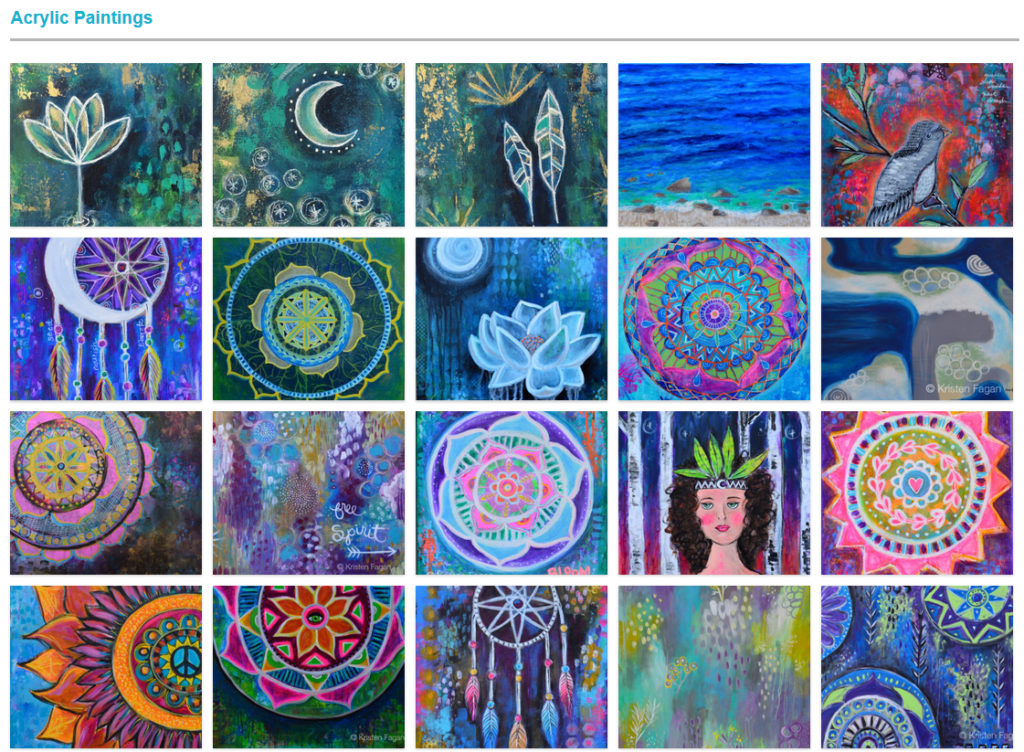 I am strolling down memory lane by reflecting on the acrylic paintings I created last year. Take some time and reflect upon the art work (or whatever your creative outlet) you created last year and I bet you'll be surprised by the wisdom you find buried in your creativity.
I wanted to do this earlier in January but, I realized I had not photographed and uploaded all my current work – I guess that's another good reason to take stock on what you've created. 😉
I want to thank Connie of Dirty Footprints Studio for her prompts and insight on how to think about my year in paint and what things to consider for digging deeper through my annual body of work.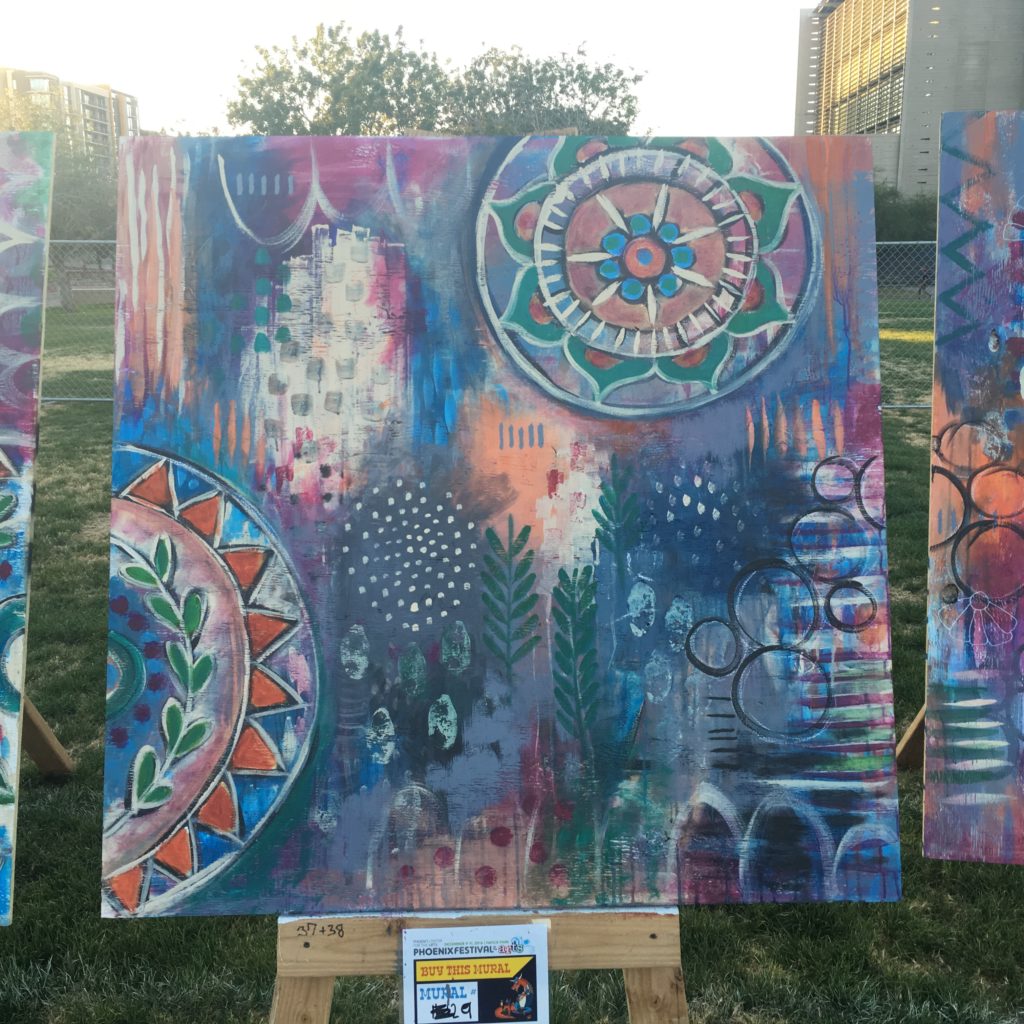 Live Mural Painting during the Phoenix Festival of the Arts 2016
PART 1 DOCUMENTATION
I take pictures of everything. In fact, I am constantly running out of camera space and dropbox space which can be super annoying but, still I take a zillion pictures. One key task for me to work on is editing and deleting the unnecessary photos so, I'm not storing so many.
Subject matter. What did you explore this year? I painted lots of mandala's due to a few mandala workshops. I surprised myself with the night goddess (I don't usually paint faces) and I had one little gray bird appear, other subjects were dream catchers, abstracts with natural imagery and a seascape.
Color palette. Are there certain colors or color combinations you leaned towards more often? How do you use color — is it bold and bright? earthy? Why do you think that is? I played with neon and a few hot pinks and oranges. Mostly I was drawn to blue and purple. I used leftover paint from painting parties to limit my choices. My colors this year overall have been bright jewel tones with metallic touches. The dominate color palette feels mystical, like I was inviting in more magic.
Composition. Is there a certain composition you lean on more often than others? I fluctuate with painting in the center or off to one side.
Patterns & motifs. Are there certain patterns or motifs that you repeat in many of your pieces? Do you notice any repetition? Dots, lotus petals, natural elements mixed with geometric.
Medium. What were your favorite art supplies and mediums to work with? Did you try anything new? Acrylic paint and paint markers are my favorite. I spent a lot more time with watercolor, even had a 30 day challenge with watercolors that produced awesome ideas. Some new things I added this year are inky sprays with stencils for the backgrounds, white gel pens for detail and line work and I used my wood burning tool for the first time this year too.
Energy. What is the overall energy of your art? What words or emotions would you use to describe the feel of it? I spent more time with intentional creativity, mindfulness and meditation this year and due to that I feel like my work has been infused with spiritual, magical and uplifting energy. Just the things I needed to bring forth in my life.
PART 2 INFLUENCES
As you look over Your Year In Paint consider some of the things that were impacting your creative process.
Workshops or classes. Was any of your work created by studying with a particular teacher or program? Lots of work was created during and after facilitating art workshops. I read a few intuitive art books and grew my art mentor tribe online to keep me inspired (and honestly sometimes overwhelmed).
Work. Did work influence your art making? Are you a teacher? Were you inspired by the classes you taught? I created a lot of work in 2016 based off the workshops Free Spirit, Mandala Magic, and Catching Dreams that I taught. I didn't spend much time in the studio creating just for the fun of it. Lots of artwork began as class demos. Because of this my subject matter doesn't feel as scattered.
Family and Relationships. Did you find your relationships to be supportive of or disruptive to your overall creative process this year? On one hand financial stress disrupted my sense of security and grounding. But on the other hand, it forced me to take risks that I may not have. I jumped before I was ready. Some ideas worked wonderfully – like awesome collaborations and showing my art in two gallery group shows – while others didn't get enough water to grow or were put together haphazardly as I didn't have the serenity of security to properly plan and execute them.
Travel. Did you travel during 2016? How did the change of scenery influence or impact the things you see in your art? We spent time exploring Arizona visiting Cibeque Falls, Payson, Flagstaff and the Grand Canyon. Bert and I also got to Denver in the Fall. Travel, especially with a large emphasis on being in nature, is incredibly inspiring and soul satisfying. Exploring in nature had a direct impact in me exploring the idea of creativity itself and playing with lots of new mediums this year.
Other Artists. Were there certain artist that really impacted you this year? I am inspired by intuitive and intentional artists, their philosophy and way of getting others to open up and let go during art making. I try and soak up all the love and wisdom they share so that I can in turn share it with my tribe in my own way. I have a long way to go before I think I'll feel totally comfortable with how that translates into sharing my gifts and why. These heart centered art mentors help me navigate the way.
PART 3 WEAVING THE TWO TOGETHER IN A CREATIVE NARRATIVE
This is when you take what you excavated about your actual creative process for 2016 (Part 1) and combine it with what was influencing you in 2016 (Part 2) to craft a narrative about who you were as an artist in 2016 (and to give you clues of who you are becoming as well!).
Creative Flow. When was I the most in the flow creatively during 2016? One art piece that stands out is Light within Darkness and with that piece I was moving through negative energy and reminding myself that I am able to create and that is powerful. That there are beautiful things that come out of the darkness such as the full moon and lotus flower. I was most in the flow during the index card a day challenge, where I showed up regularly in a small way to create.
Art and life. How did my art making mirror what was happening in my life? Are there certain subject matters or ways of expressing myself that best reflect what I was going through? Yes, mandalas in particular are a form of meditation and healing. I spent a lot of time working on them this year and that calmed me. I can let my worries and thoughts drift as I just focus on what pattern to add next. It was a mindful practice in presence to help ground and remind me that I have all I need right now, in this moment.
Interests and curiosities. What was I interested in creatively during 2016? Definitely the desire to share the magic of painting with others as well as the philosophy or intuitive and intentional art making. I was curious about watercolor taking it out of my sketchbook, onto index cards and then paper and then out into the world sharing with others. I started the year off with a curiosity in wood burning, but only got to a couple projects. I hope to pick this up a bit more this year.
Highlights and achievements. What are the things you are most proud of creatively? There really are many! I'm proud that I stepped out of my comfort zone and facilitated many workshops at multiple locations, that I shared my art in two group gallery shows, that I began to find my people – those that get me and want to join me on this magical creative journey, that I said yes more then no to things that scared and excited me and mostly about being a creative warrior – pushing through whatever muck I was stuck in and gifting the magic of creativity with others.
Nuggets of wisdom and advice. What nuggets of wisdom did you learn about your creative process? What type of advice would you give another artist based on your year creatively? Follow what feels interesting. Get out and connect with creative minded souls. Collaborate. Let go of perfection. You don't have to know it all to say yes, just jump and figure it out along the way!
What's next? What feels really juicy to you? What do you want to explore more of in 2017? What do you want to do less of? Where can you tighten up or loosen up? Where can you embrace more of who you are as an artist?  Refining my workshops for more soul nourishing creativity. Bringing in a little more magic and play. Letting go of having to do it all, focus on what feels good and give it your all. Tighten up on how to help others feel safe to let go and let it flow in creating. Loosen up on needing to gather more and more information, be content in my enoughness. Through daily art practice I want to explore and allow my voice to emerge, through art journaling I want to embrace the messy, ugly parts of art healing without worrying if anyone will see it.
Save
Save
Save
Save
Save
Save
Save
Save