"You yourself, as much as anybody in the entire universe, deserve your love and affection." – Buddha
I know the term SELF-LOVE gets tossed around a lot and honestly, I think it's for good reason. We are starved for compassion towards ourselves. Being okay with who you are, just as you are – imperfections and all is what it all boils down to. It's those imperfections that make you, well, YOU.
We are not taught to love ourselves unconditionally. "I will be able to love myself when …" is an all too common loop that happens inside our heads. I know growing up if you thought too highly of yourself you were called names like conceited or arrogant. So, I would knock myself down a notch. But, over time, knocking myself down became quite the nasty habit. You then look for love outside of yourself when what you really need is to LOVE YOUR WHOLE SELF.
This is a great excerpt about self-love from Whitney Freya's book Rise Above:
"The only source of true unconditional love is within YOU.
No one else can possibly love you EXACTLY, 100% of the time, the way you really, really want them to. Only you can do this.
Until you rediscover this unconditional love you have for yourself, you will continue to look to others to provide this energy, this feeling, for you.
And when they let you down, because they don't love you perfectly, your love for them becomes conditional. Then, their love for you becomes conditional. Or it feels that way. And you feel like you've been cheated or robbed, or somehow left out. You become the victim."
Wow! Do you see how the act of not fully loving yourself ultimately puts you in place where you put conditions on your love and give others permission not to love you unconditionally either.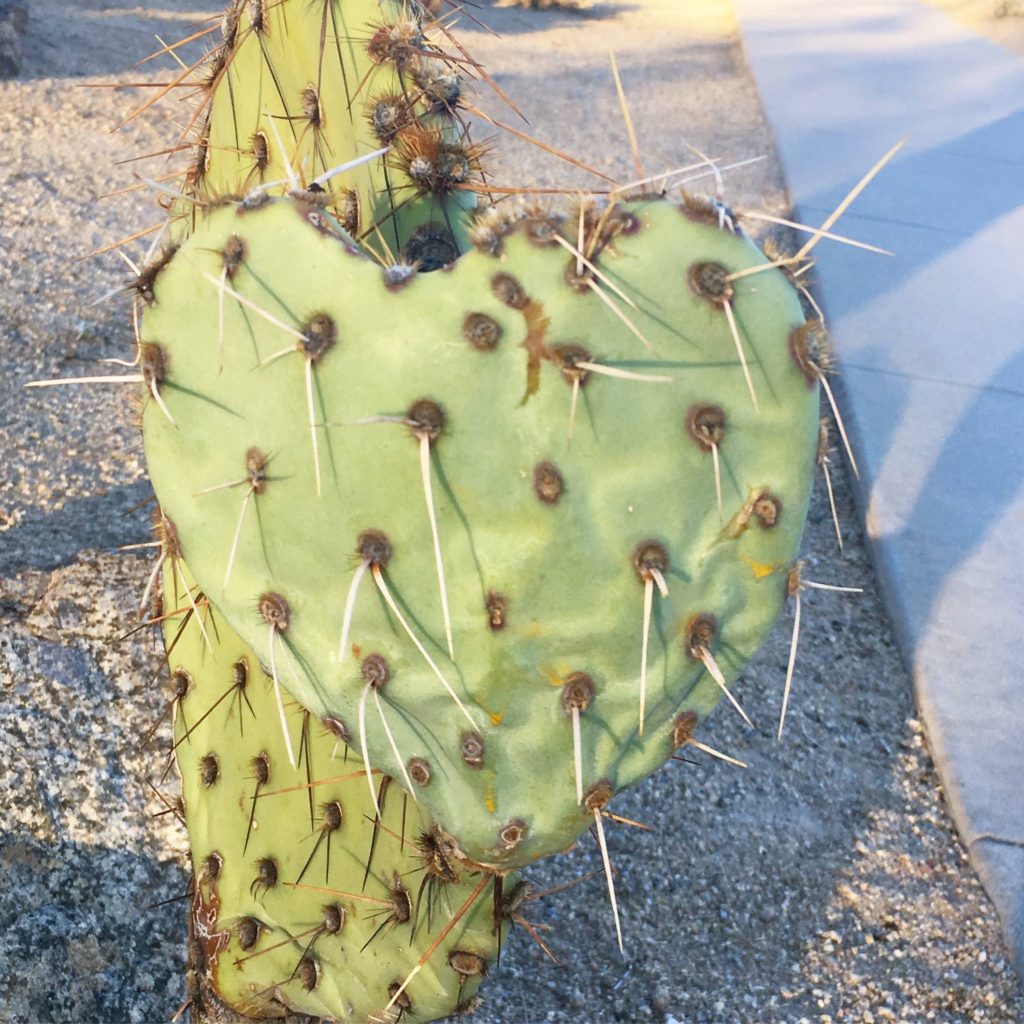 I saw this prickly pear cactus heart on my walk this morning. Seeing a heart out in the wild is a message of unconditional love and support from the universe. It all starts with you. The more you practice being loving, to yourself as well as others, the more love shows up in your life. Love is all around you.
Have you seen hearts around? What do their messages mean to you?
---
My Buddha painting shown above was painted live during the Phoenix Festival of the Arts. If you are interested in purchasing this Buddha painting (mural #9) or any of the murals that were created during the festival, please contact the Phoenix Center for the Arts at info@phoenixcenterforthearts.org. All murals are $300 + shipping.